M o n o w h e e l s: Page 5
The strange story of vehicles with insufficient wheels.
UNKNOWN MONOWHEEL
Left: Unknown monowheel: 19??

Picture 'found on the web'. Nothing known so far, but I am told the engine looks like a 49cc OHV Honda C100. Judging by the look of the pickup in the background, I am inclined to think this in the USA.

Note prudent ant-gerbilling wheels.
---
JAKE LYALL AND THE RIOT WHEEL
Left: Jake Lyall's RIOT wheel at the 2003 Burning Man Festival.

This chunky 1100-pound machine is Jake Lyall's RIOT (Re-Invention Of The) wheel. Lyall's monowheel is unusual because it does not use the rider's weight to provide the reaction to the engine's thrust on the wheel. Instead the rider is outside, and the reaction is given by a lead-weighted Honda 80cc 4-stroke scooter engine suspended from a central shaft, driving through a sprocket attached to the wheel spokes. A separate 450-pound counterweight keeps the rider hovering above the ground at the front. Steering is done partly by precessing a 65-pound gyroscope to give yaw, and partly by the rider shifting his weight.

See more on the RIOT wheel at www.theriotwheel.com

Pictures by kind permission of Jake Lyall.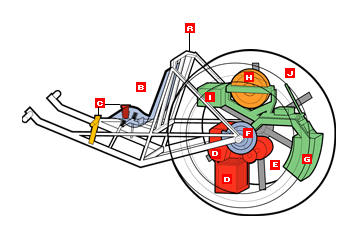 Picture by kind permission of "mckibillo" at http://mckibillo.com/

Left: The internals of the RIOT wheel.

A. Chassis, MIG-welded out of thin-walled steel tubing.

B. Spring-mounted seat tilts 15 degrees each way.

C. Throttle controls engine speed; joystick controls gyro and counterweight crane to lift or lower the driver.

D. 80cc four-stroke Honda scooter engine and 80 pounds of lead, delivering 120 pound-feet of torque at 90 degrees forward.

E. Sprocket bolted to outer spoke transfers engine assembly's torque to wheel.

F. Disc brake bolted to outer spoke; in full-skid braking, engine assembly is pulled backward from 0 degrees, pushing the driver quickly but safely to the ground, where a skid plate on the bottom of the seat aids braking.

G. 450-pound counterweight system, which works even without the engine inside.

H. 65-pound steel gyro, powered by two fan motors, tilts on a horizontal axis to yaw the vehicle for steering.

I. 1.5-gallon gas tank. Future versions will be electric.

J. 20-inch-wide rimless tire.
---
THE SCRAPHEAP CHALLENGE MONOWHEELS
The Scrapheap Challenge is a UK television series in which two teams compete to build unconventional machinery- usually some sort of strange vehicle. One of the challenges was a monowheel, and both Kerry Mclean and Geraint Evans were involved. The competition was on 3rd Nov 2002. Two monowheels were built; the one with the fat wheel on the left was the winner.
Built by the Hammerlocks team
This was the winner
Built by the Tunnel Ratz team
Learn more about the competition here.
See also Doctor Rod Gibson's website. Rod was technical consultant for the Hammerlocks team.
---
THE KEITH DUFRAYNE MONOWHEEL
Left: Keith Dufrane's monowheel.

This superb picture was kindly provided by Keith Dufrane. He says:

"I became fascinated with them a few years back and made one based on a 100cc Honda trail bike engine. I dress up as Uncle Sam and take in a variety of parades in Columbus, Ohio, each summer."
---
A RUSSIAN MONOWHEEL: THE SUNCYCLE
Left: Russian Foot-Powered Monowheel.

This picture was provided by Valery Makarenko. Apparently you scoot along, standing on the small platform at the bottom, and holding onto the two angled arms. A purist might argue that this doesn't count as a monowheel as the rider is not actually inside the wheel, but I for one am prepared to give it the benefit of the doubt.

The Suncycle is a commercial venture currently seeking funding for mass production.
Learn more at: http://suncycle.boat-composite.com
---
A BRAZILIAN MONOWHEEL
Left: The Brazilian "Wheelsurf" Monowheel.

The Wheelsurf is being actively marketed at present. It appears that plastic mouldings are used for the frame, so a significant amount of money has been invested in the project.
The project now seems to be based in Holland.

Learn more at: http://www.wheelsurf.nl/
---
A CHINESE MONOCYCLE
Left: The Chinese Monocycle.

Li Yongming, left, and Zheng Jun demonstrate commercial monocycles during a promotion in Beijing in 2003 (?). The monocycle was designed and built in Xian in China's Shanxi province, and is said to sell for 2,888 Chinese yuan (approx $350).
---
THE STEAMBOY MONOWHEEL
Connoisseurs of these pages will have wondered if anyone has taken the obvious step of building a steam-powered monowheel. The answer, sadly, appears to be no, but here is a fictional one.
Left: The Steamboy Monowheel.

Our hero, improbably named Ray Steam, is seen here on/in his steam monowheel, hotly pursued by a steam-powered villain.

This is an anime production by Katsuhiro Ôtomo, the maker of "Akira". Learn more at: sonypictures.com/movies/steamboy/

This film is, and I quote: "A retro science-fiction epic set in Victorian England. Steamboy features an inventor prodigy named Ray Steam who receives a mysterious metal ball containing a new form of energy capable of powering an entire nation."

It is an excellent piece of entertainment, with lots of style and some stunning visuals, but it has to be said that its grip on thermodynamics, and science in general, is tenuous at best.
---
THE DAVID SOUTHALL MONOWHEEL
Left: The David Southall Monowheel.

This fine machine has been recently built by David Southall. It is called The Red Max. David says its construction was inspired by the 1924 circus monowheel on this website, no less.

David has now kindly provided more details:

"The wheel itself is a 5 foot diameter hoop of 2 inch tube. It was a bit beyond what I can do so was made for me by The Angle Ring Company . The pulleys on which it runs were custom-made by AED rollers. Everything else was cut, bent and welded in my shed!

The engine is a 90cc four stroke from a Chinese quad bike. I was initially going to use the engine/wheel unit from a 50cc scooter but the wheel was too big and the two stroke power delivery can be a bit 'peaky'! The quad engine is fully auto with electric start. The friction drive wheel is the rear wheel from a mini moto. It has a cable-operated disc brake which must be used with extreme caution. The tyre on the outer wheel is three 24 inch mountain bike tyres cut up and pop riveted on. Once I had all the major parts the actual build only took eight days.

The handling is quite good, although I have nothing to compare it with! It is relatively easy to get your feet up providing you have achieved a certain speed. I am unsure of the top speed of the machine but have easily won a race against a lad who was sprinting a quite a pace. I will try to attach a pushbike speedometer and get some figures in the near future."

See Dave's impressive website (including videos) here.
---
THE WIM TE KAAT MONOWHEEL
Left: The Wim te Kaat Monowheel: 2007

This monowheel was built solely from some pictures found in a museum somewhere in the France. The first riding trials were made in March 2007

Mr Wim te Kaat lives in a small village called Silvolde in the east of Holland.

Info from: Iginio Voorhorst, Silvolde, Holland
Left: The Wim te Kaat Monowheel

This monowheel appears to be powered by hand-crank. Hopefully there will be more technical data soon.

Info from: Iginio Voorhorst, Silvolde, Holland
---
THE BEN WILSON MONOWHEEL
Left: The Ben Wilson Monowheel: 2008

This pedal-powered monowheel was commissioned from Ben Wilson for the XXIst Century Man exhibition at 21_21 Design Sight in Tokyo
Left: The Ben Wilson Monowheel: 2008

Since the rubber-tyred drive wheel is much smaller than the main wheel, there needs to be a considerable step-up ratio between pedals and drive wheel, which appears to be accomplished in one stage by the chain and sprockets.
Left: The Ben Wilson Monowheel: 2008

This purports to show the drive mechanism but it does not correspond with the picture above.
---
THE OLYMPIC MONOWHEEL: 2008
Left: Olympic

This pedal-powered monowheel was used in the Beijing 2008 Olympic Closing ceremony. It can be bought from Hammacher Schlemmer for $7,000. It is constructed of steel for the rings and ABS plastic for the frame, which can light up red, white, or blue.
| | | |
| --- | --- | --- |
| | | Left: Olympic |
---
THE CHILEAN MULTIWHEEL: 2014
Left: Multiwheel at Chilean music festival

Musicians perform inside a four-meter-high metal wheel as part of Chile's 21st annual international street festival. This is best seen on YouTube: Festival in Chile

"Monowheel" hardly appears appropriate for this creation, which appears to be powered by geared penny-farthings on each side of the main central wheel. Inside that wheel three musicians swing around in their own individual "monowheels". As the YouTube video shows, the machine can move forward (the headlight is a nice touch) or pivot on the spot.

Quite remarkable! Well done to all concerned.

Drawn to my attention by Ben Burch- many thanks
---
THE TOM ANABLE MONOWHEELS: 2013
Left: The Land Speed Monowheel

Tom Anable is a prolific builder of monowheels in England.

This monowheel by Tom Anable took the British monowheel top speed record on 18th of August 2013 at Elvington Airfield, York. It reached a land speed of 60.1 mph. It is powered by a 200cc petrol engine.

Tom has a website here

Picture by kind permission of Tom Anable
---
THE AIRWHEEL
Left: The Airwheel: 2014?

This stand-on monowheel (unicycle?) is made by the Airwheel Company. It has a 400W electric motor with a battery charge time of 1 Hour. Range is 4-6 miles with a maximum speed of 12 MPH. Weight is 9.8Kg

Purists may complain that it is not a true monowheel as you do not sit inside the wheel; it is more of a unicycle. See if I care; it's a neat device.

Actually, the real problem with these things (in Britain) is that according to the law you cannot use it on the pavement because it is a vehicle. nor you can you use it on the road because it is not a vehicle. You can use it in your living room. Great. Doesn't it.
---
THE RYNO MOTORS MONOWHEEL
Left: The Ryno Motors Monowheel: 2015

This intriguing device was designed by rynomotors.com It is powered by two electric motors and the range is reported to be around 15 miles; top speed is 10mph. The dry weight is 160 pounds.

There are some more detailed technical specs on this page.

The Ryno website says it is 'Now Available for Global Manufacturing License' which suggests it's not actually in production. There is a YouTube video which includes sequences of a prototype in action.

Once again, purists may complain that it is not a true monowheel as you do not sit inside the wheel; it is more of a unicycle. See if I care; it's a neat device. It's starting to look like an idea whose time has come... maybe.

Thanks to Richard Kelsey for bringing this device to my attention.
---
THE RECORD-BREAKING WAR HORSE MONOWHEEL
Left: Kevin Scott and The War Horse Monowheel: 2016

Kevin Scott,of Lincolnshire, England, and the UK Monowheel Team, has set a new world record of 68 mph on (in?) his monowheel War Horse. The previous record of 57 mph (91.7km/h) was set by Kerry McLean in the USA in 2001.
Left: Kevin Scott and The War Horse Monowheel: 2016

The record was hoped to be included in the 2017 Guinness World Records book, The Record was set at Elvington Airfield, near York, England.
---
THE COREY SMITH HYDRAULIC MONOWHEEL
Left: The Corey Smith Hydraulic Monowheel: 2018

This is the latest monowheel in The Museum, and is unique in having a hydraulic drive system. It was built by Corey Smith and Cameron Tschupp as part of the Fluid Powered Vehicle Challenge at Western Michigan University. Corey Smith says:

"The competition was mostly meant for bikes and trikes but we had another idea. The competition is called the Fluid Powered Vehicle Challenge. In total, there are four hydraulic systems on the bike.

1: Direct Pedal (hydraulic link)
2: Accumulator charge (Pedal to pressurize accumulation tank)
3: Accumulator drive (Release accumulated charge to power bike)
4: Regenerative braking (Harness momentum to charge accumulator)

"Mostly we choose to compete with a monowheel because we would never have a chance to do something like this again."

Picture courtesy Corey Smith
Left: The Corey Smith Hydraulic Monowheel: 2018

Picture courtesy Corey Smith
Left: The Corey Smith Hydraulic Monowheel: 2018

Picture courtesy Corey Smith
---
STEAMPUNK MONOWHEEL
Left: Steampunk Monowheel: 2018

Pictured at Ironfest 2018 held on 21,22 April 2018 at Lithgow, New South Wales, Australia. Few mechanical details are currently known.
Left: Steampunk Monowheel: 2018

This is clearly meant to resemble a steam monowheel, but the boiler is less than convincing, looking like an old bucket. However, this monowheel clearly has some form of propulsion; note the drive chain and lawn-mower engine (?) under the 'boiler'. There are two copper pipes running overhead to a control valve on the handlebars, but what is in the pipes? Propane? Compressed air?

There is also a black control cable running back to the engine from the handlebars, and there is a cable operated caliper brake just ahead of the yellow chain wheel.

Pictured at Ironfest 2018 held on 21,22 April 2018 at Lithgow, New South Wales, Australia.
---
UNKNOWN FRENCH MONOWHEEL
Left: French Monowheel: 20??

This image was 'found on the net' and all that is known is that it is of French origin. Note the little stabiliser wheel at the front.

A reverse-image search revealed nothing. Can anyone help?
---
THE WHEELSURF MONOWHEEL
Left: The Wheelsurf Monowheel: Now

The Wheelsurf company of the Netherlands sells monowheels powered by a Honda GX35 4-stroke engine for 8,500 Euros. The engine is of 35.8cc with 39mm bore and 30mm stroke, giving 1.3 HP at 7000rpm. (quite fast rotation)

Their website is here. They do point out that their monowheels are not street-legal in most countries.
Left: The Wheelsurf Monowheel: Now

A different version of Wheelsurf, with simpler plastic mouldings and a different wheel design.
---

There is now a British Monowheel Association, whose members include Dave Southall and Tom Anable.

---
WHY MONOWHEELS?
Why did these remarkable machines appear between the wars? My own guess was that the technology derived from the strategic bombers that emerged at the end of WW1, such as the Handley-Page 0/100 and V/1500 machines. These gigantic biplanes had proportionately large wheels, requiring enormous tyres. These tyres were presumably cheaply available when this type of bomber became obsolete, and could have triggered the idea of driving around inside them.
However, the discovery of The Monocycle Garavaglia of 1904, rather knocks a hole in this brilliant theory...
---
A BAND CALLED MONOWHEEL
A musical ensemble appeared called "Monowheel". They had a webite at www.monowheel.com but as of Nov 2014 the site had vanished and the domain name appears to have been put up for sale. As of October 2018 it is still for sale.
However, this download site suggests that the music, if not the band, still exists. They do not appear to be on YouTube.

---