M o n o w h e e l s: Page 4.
The strange story of vehicles with insufficient wheels.
THE KERRY MCLEAN MONOWHEELS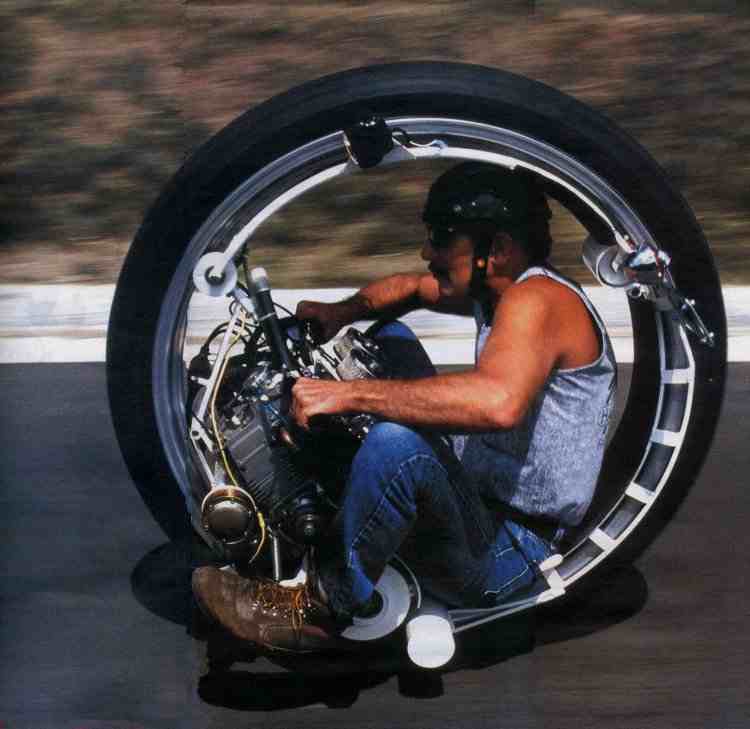 Above: A modern monowheel, built by Kerry McLean, 47, of Walled Lake, Michigan. Picture dated Feb 2001.
Engine:
40HP water-cooled, ex-snowmobile

Wheel:
Inside diam 36 in. Tyre is from a French vineyard tractor trailer.

Controls:
Left-hand clutch, twistgrip throttle, righthand hydraulic brake.
Steering is by leaning slightly out of the wheel.
Accessories:
Halogen headlights, brake lights and numberplate.
This machine is licensed for the road. McLean has set a speed record of 53mph for a monowheel at Bonneville Salt Flats, Utah, and is aiming for 100mph.
Left: An early McLean monowheel, circa 1971.

Picture courtesy of Kerry McLean.

Note that Kerry calls these machines "monocycles" rather than "monowheels". We haven't fallen out over it.

Kerry has a website at kerrymclean.com where you can see more of these machines.
www.landracing.com had a video clip of Kerry McLean's first monocycle in action at the Bonneville Salt Flats, going for the land speed record, but sadly it seems to have been removed from their site.
THE MCLEAN V8 MONOWHEEL.

This new machine must be the first operational V8 monowheel. The engine is an aluminum block Buick V8 with dual quad carbs, and is one superb piece of engineering. Brilliant!

New! Superb video of Mr McLean driving his V8 monowheel. (1.4 Mb) mclean.mpg

Video kindly provided courtesy of Panda Precision.
The second version of the V8 Rocket Roadster, with stabilising fin and rudders.

These were fitted following some stability issues with the earlier design.
The latest model, with Kerry Mclean aboard.

Kerry hand-builds these for sale; cost in the US is approx $8500.

The engine is a Briggs & Stratton 5hp model.

What appear to be chromed parts are actually hand-polished aircraft-spec aluminium.
You can contact Kerry at McLean Wheel, tel 248-624-8274 (Michigan)
You can see more pics of Kerry's work at: http://www.americanroadshop.com/The_Monocycle/the_monocycle.html
| | | |
| --- | --- | --- |
| | | Left: Kerry and your humble scribe in June 2002. |
---
THE NILSSON MONOWHEEL AGAIN?

Found on a unicycle site(!) with no info at all. Judging by the fullface helmet, this picture is post-1970 or thereabouts.

I think this is the Nilsson monowheel of 1936; the idler wheel housings certainly look similar, as do the seat bracings. If so it's been fitted with a new engine, which is not unreasonable 40 years on.

One of my correspondents writes: "I'm pretty certain that the photo of the Nilsson Monowheel Again appeared in Motor Cycle News in the late 70's. As I recall the rider had found a wheel from the 20's (30's?) and rebuilt it with a Honda engine, but the major factor in getting it "roadworthy" was finding a tyre."

Does anyone have any more information? I would dearly like to know more about this mysterious machine.
---
A 1924 CIRCUS MONOWHEEL RESTORED.

For some time I have believed this is Jumpin' Joe Gerlach, on a circus machine fitted with a 160cc Honda engine, but it is now clear it is really Hubert Brosche on a restored 1924 circus monowheel.

He sends me the following details; Engine: 250cc Horex Columbus (1924) & Buhrmann Gearbox. He restored the wheel in 1988 and rides it at different shows/TV events.
| | | |
| --- | --- | --- |
| | | Left: Hubert Brosche aboard the 1924 machine. |

---