Gallery opened: 8 Feb 2020

Updated: 12 Feb 2020

More on London system
For many years power was distributed around London by a high-pressure water supply, provided by The London Hydraulic Power Company. It allowed power to be distributed long before electric power networks were possible, and used on sites where a steam engine and its associated boiler would be impractical. Water was supplied at a nominal 800 psi (5.5 MPa or 55 Bar) pumped by five hydraulic power stations, originally driven by coal-fired steam engines, and later by electric motors.
In most cases water was pumped from the nearest river, and into a tank where mud and sediment settled out. The demand for water would vary continuously, and this was accomodated by hydraulic accumulators that were enormous weights resting on hydraulic cylinders.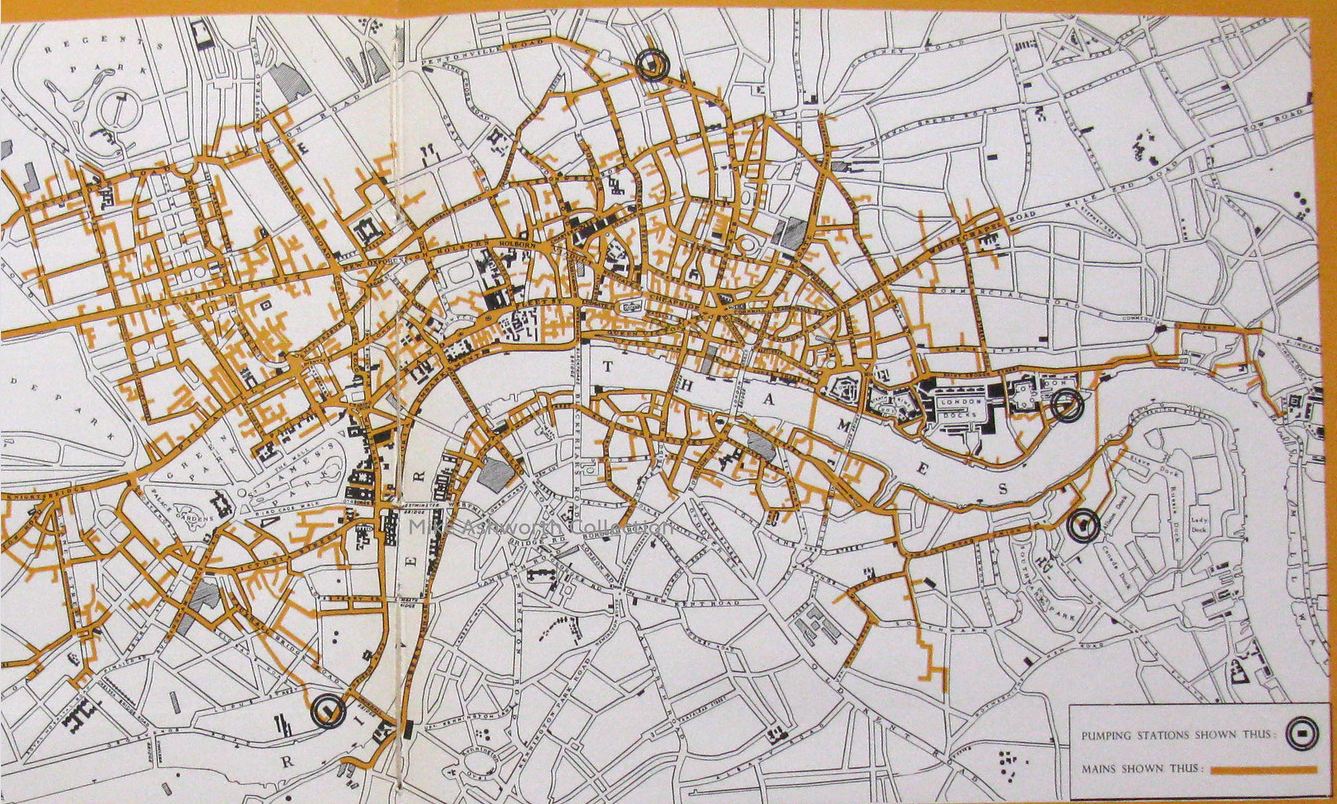 Above: The London hydraulic network in 1960, at its fullest extent.
Just to the west of Tower Bridge (to the left of the M in THAMES) hydraulic mains can be seen crossing the Thames through the Tower subway.

THE LONDON HYDRAULIC POWER COMPANY
The London Hydraulic Power company was the largest network in Great Britain; it began active operation in autumn 1883. It was not the first- the Hull system became operational in 1876. The first London pumping station was built at Falcon Wharf, Holland St, at Bankside, east of Blackfriars Bridge, on the south bank of the River Thames. The site presumably disappeared when Bankside power station was built, but Holland Street still exists. Bankside power station is now the Tate Modern art gallery.
The London pumping stations were:
Falcon Wharf, Holland St SE (1883- )
Philip Lane EC, City of London ( - )
Kensington Court (18??-1893)
Millbank SW (1887-)
Wapping E (1890-1977)
City Road Basin (1893-
Rotherhithe (1903- )

THE WAPPING STATION
The best-known of the stations is Wapping Hydraulic Power Station, which still exists and contains pumping machinery which is allegedly in working order, though I think that is perhaps questionable. There is much more detailed information about the Wapping station here.
Until (I think) 2013 the main pumping hall at Wapping contained a very good (though rather expensive) restaurant, that I and my partner visited several times. Another part of the building housed an art gallery and performance space. I find in my records, Watson, that I last dined there on Wednesday 13 June 2007; foie gras, pork, and chocolate & marmalade ice-cream were consumed.
Business on the London system began a slow decline from 1904, as electricity distribution improved. By 1973 only two pumpig stations were operational. The London Hydraulic Power Company went into voluntary liquidation in 1976.

OTHER BRITISH NETWORKS
Similar hydraulic networks were built in Birmingham, Hull, Liverpool, Manchester, and Glasgow; see:
There is a general Wikipedia page on hydraulic power networks.
Hydraulic power networks were also built in other countries:

THE ANTWERP SYSTEM
A former hydraulic pumping plant in Antwerp. The twin towers housed two hydraulic accumulators

This building was called the 'Zuiderpershuis' which tranlates literally as 'Southern press house' implying there there were at least two of them.

The Antwerp system not only supplied mechanical power; it was also used for the local generation of electricity, its distribution over any distance being then uneconomical. The Paris compressed air network was also used for local electricity generation.

Power can also be distributed by a compressed air network such as the extensive system in Paris. This is however much less efficient because of the heat lost when compressing the air. Water by comparison is almost incompressible and the equivalent losses are negligible.
Power distribution can be mechanical over short distances. The typical 19th-century factory would have horizontal line shafting mounted just under the ceiling, with a drive belt linking it to individual machines. One mid-19th-century factory in the USA had 1,948 feet of line shafting carrying 541 pulleys in its finishing shop.



---