BALANCED MAINS POWER.
There has been speculation in recent times as to whether a balanced mains supply is a good idea. This means that instead of Live and Neutral (230V and 0V) you have Live and The Other Live (115V-0-115V) created by a centre-tapped transformer with the tap connected to Neutral. See Fig 6 below.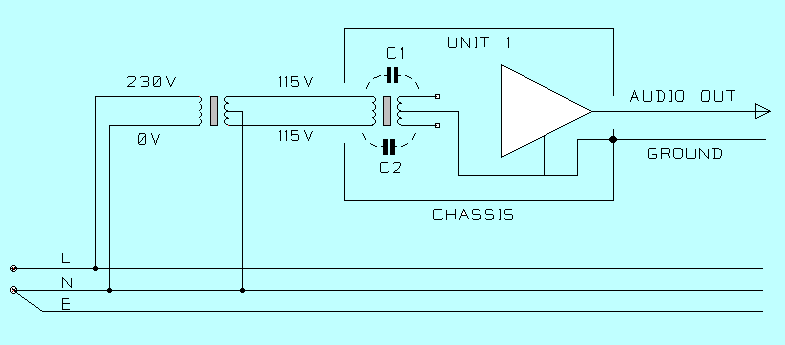 It has been suggested that balanced mains has miraculous effects on sound quality, makes the sound-stage ten-dimensional, etc,etc. This is obviously rubbish. If a piece of gear is that fussy about its mains (and I don't believe any such gear exists) then drop it in the river.
If there is severe RFI on the mains, an extra transformer in the path may tend to filter it out. However, a proper mains RFI filter will almost certainly be more effective- it is designed for the job, after all- and will definitely be much cheaper.
Where you might gain a real benefit is in a Class-II (ie double-insulated) system with very feeble ground connections. Balanced mains would tend to cancel out the ground-currents caused by transformer capacitance (see Fig 3 and above for more details on this) and so reduce hum. The effectiveness of this will depend on C1 being equal to C2 in Fig 6 above, which is determined by the details of transformer construction in the unit being powered. I think that the effect would be small with well-designed equipment and reasonably heavy ground conductors in interconnects. Balanced audio connections are a much cheaper and better way of handling this problem, but if none of the equipment has them then beefing up the ground conductors should give an improvement. If the results are not good enough then as a last resort, balanced mains may be worth considering.
Finally, bear in mind that any transformer you add must be able to handle the maximum power drawn by the audio system at full throttle. This can mean a large and expensive component.
I wouldn't be certain about the whole of Europe, but to the best of my knowledge it's the same as the UK, ie not balanced. The Neutral line is at earth potential, give or take a Volt, and the Live is 230V above this. The 3-phase 11kV distribution to substations is often described as "balanced" but this just means that the power delivered by each phase is kept as near equal as possible for the most efficient use of the cables.
It has often occurred to me that balanced mains 115V-0-115V would be a lot safer. Since I am one of those people that put their hands inside live equipment a lot, I do have a kind of personal interest here...
Words= 2087