| | | |
| --- | --- | --- |
| | The Shay Geared Locomotives. | |
Gallery opened: March 2001

Updated: 23 May 2023

Previous update: 2 Mar 2003
These locomotives had perfectly good reasons for their apparently eccentric design. They were often used in logging camps and other remote locations where the track was roughly laid and subject to tight curves and steep inclines.
Some were designed to run on logs rather than rails. Steel rails cost money, but in lumber camps there is one thing you have plenty of- trees. The practice was therefore to lay down treetrunks as "rails". Obviously conventional railway wheels would just fall off the treetrunks, so big concave wheels were used, rather like car wheels with no tyres on. These gave very little grip, so the only way to get some tractive effort was to make sure that all the wheels were driven. The Shay design was well-suited to this.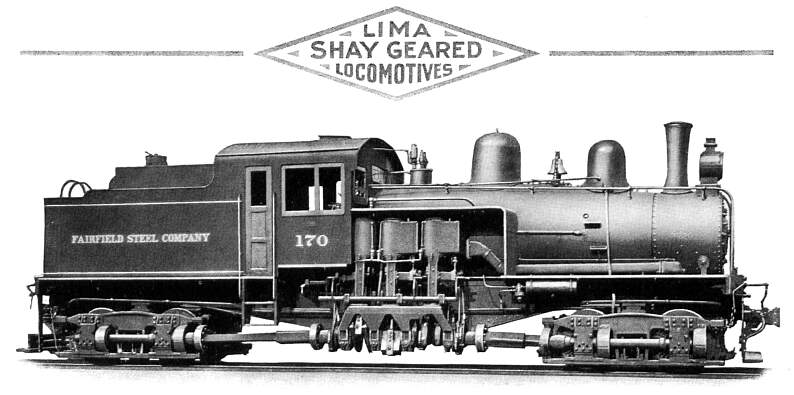 A Shay geared locomotive, with vertical engine. Built by the Lima Company. Note the drive shafts to each bogie, fitted with sliding splines and universal joints to allow movement.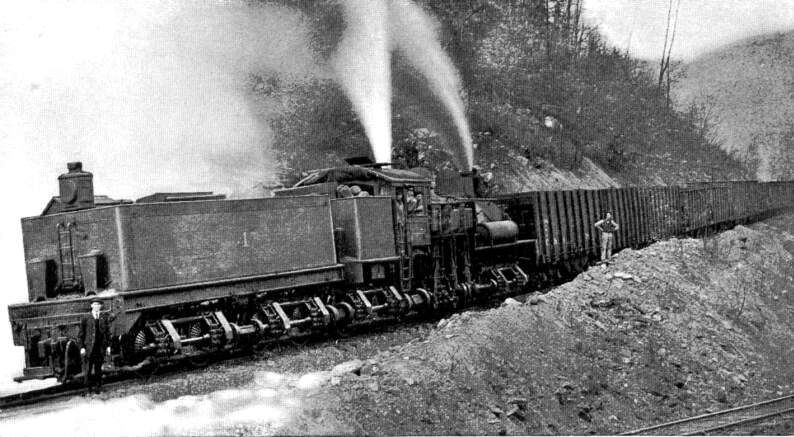 Above: A Shay at work. This version seems to have a double-bogie tender.

Above: Side elevation of a 3-bogie Shay
| | | |
| --- | --- | --- |
| | | Left: The front of the Shay, showing the offset boiler. |
Above: New York Central Shay 7185: 1942

The New York Central had five Shay locomotives for use on street tracks in New York City because city regulations required moving parts to be shrouded, possibly to avoid frightening horses, but presumably also to prevent pedestrians becoming entangled in the machinery. The railway tracks on both Tenth and Eleventh Avenues (laid in 1846) ran down the street and were the cause of frequent death and injury. In 1910, it was estimated that there had been 548 deaths and 1,574 injuries over the years along Eleventh Avenue alone; an appalling figure if it is true. Both avenues were known as Death Avenue. In an attempt to improve safety, trains were preceded by mounted riders who became known as the West-SideCowboys.

The street tracks were were finally removed in 1932, and the West Side line was electrified around 1932. Later the Shays were replaced by diesels.

It is not currently known why the boiler was enclosed; presumably something to do with the same city regulations.
Above: New York Central Shay 1897: 1942

The wheels and their bevel gears are covered by sloping plates but the engine crankshaft and the telescoping shafts are not guarded.

The Shays were transferred to New York Central subsidiaries Genessee Falls Railway in Rochester, and the Owasco River Railway around Auburn. The Marcellus & Otisco Lake (M&OL) RR leased #7185 in 1942. It was returned to the New York Central in 1943 with a broken frame and exchanged for #7187. The Shays were scrapped in 1948.

Location: Marcellus, Onondaga County, New York. Date 1942

---