Hagans' Heros-
The Hagans Oscillating-Lever System.
Gallery opened: Jan 2003

Updated: 25 May 2003
The Hagans Oscillating-Lever System, like the Klose System, was a mechanical method of coupling together two separately swivelling parts of an articulated locomotive.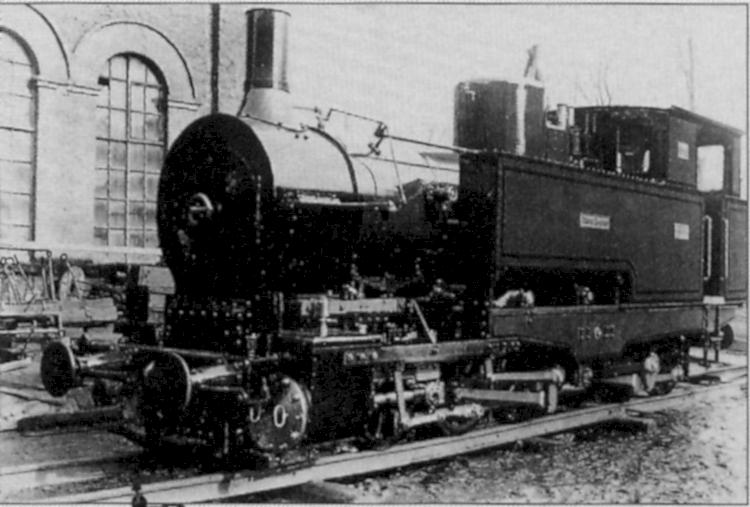 Above: Hagans locomotive type T36 of the Prussian State Railways. Unfortunately most of the lever-work is hidden by the side tanks.
At least one of the T36 locos survived for a long time and was scrapped only 1965, but its Hagans drivegear was removed many years earlier. (cf 99-4621)

Above: The Hagans Oscillating-Lever System applied to a 0-6 + 4-0 design.
Mode of operation: The three front axles are fixed to the frame, while the rear two are on a swivelling truck. The piston rod drives the front wheels through a connecting rod in the usual way, though there is a link interposed so the front drive lever with its fixed upper pivot can also be driven.
This front drive lever is connected to the rear drive lever, which instead of a fixed upper pivot has a moving one at the top of the "counter steering lever". This pivot is displaced by the "counter steering rod" when the rear wheel assembly swivels and the rear wheels advance or retreat with respect to the fixed front ones, giving the effective change in the length of the rear connecting rod that is required.
Left: The first 0-4 + 4-0 Hagans, built in 1892 for the Gelnhausen-Bieber mine railway.

Weight: 28.6 tons
Left: Another Hagans locomotive, apparently a 0-6 + 4-0.

Sadly this pic has been compressed to death at some point & definite identification has so far eluded me, but it is believed to be the only Hagans system loco ever used on what later became the Yugoslavian railways.

Hard facts: Built by Henschel in 1902. Length 9.1 m, speed 25 km/h. It carried 4 tons of water & 1.2 tons of coal.
The Hagans system was first tried in 1892, on a 0-4 + 4-0 type 0.9m gauge locomotive built for the Gelnhausen-Bieber open-cast mine railway. Weight was 28.6 ton and steam pressure 175psi. The customers were impressed with its curve-handling ability and quickly ordered another one.
Coustenoble, General Director of the Thessalonia Railway, placed an order with Weidknecht in Paris for three Hagans locomotives, which reached Volos in 1895. They were numbered 31-33. A fourth Hagans was delivered in 1898 and duly numbered 34. Apparently the relatively complex Hagans system did not do well on the steep gradients of the mountainous section, and in 1903 the railway acquired two conventional 2-6-0 tank engines from Tubize in Belgium.
By 1905 there were 152 Hagans locomotives in use on the Prussian and Hessian State Railways; however, they disappeared as fast as they appeared, apparently being all gone by 1907; there must have been some serious problems. According to Wiener they were replaced with locomotives using Gölsdorf axles.
One Hagans locomotive was sent to Tasmania, to work on the 2-foot gauge North-East Dundas Tramway. Only one was ever sent but it did sterling service there, until eventually replaced by the first ever Garretts.
SUMMARY:
1829
Christian Hagans born in Erfurt
1891
Hagans is granted patent 58,845 for his system
1892
First Hagans system locomotive built for Gelnhausen-Bieber mine railway.
1892
Second Hagans system locomotive built for Gelnhausen-Bieber.
1893
First trial of 0-4 + 4-0 on Prussian State Railways (0.9m gauge)
1894
The Association of the German Railway Administration awards Hagans its first prize of 7500 Mark.
1894
Schichau build 0-6 + 4-0
1898
Schichau build 0-6 + 4-0
1895
Three Hagans built by Weidnecht in Paris for the Greek Volo Lechonia railway. (0.6m gauge)
1895
One Hagans built (by Weidnecht?) for Chemins de Fer de la Drôme. (1m gauge) No repeat orders.
1900
Hagans locomotive exhibited at the Paris International Exhibition
1900
Vulcan 0-6 + 4-0
1900
Hagans locomotive built for Tasmania.
1902
Construction by Henschel of more 0-6 + 4-0 locos for Stettin-Jasenitz line of Prussian State Railways
1905
There are 152 Hagans locomotives in use on the Prussian and Hessian State Railways
1907
All Hagans gone from Prussian and Hessian systems.
1908
Christian Hagans dies.
Left: The 0.6m gauge 0-4 + 4-0 Hagans built for Greece by Weidnecht, in 1895.

In this case the swivelling truck is at the front.
The piston rod appears to be connected to the top of one of the driving levers.

Weight: 16 tons.
Left: The 0-4 + 4-0 Hagans built in 1895 for Chemins de Fer de la Drôme. (1m gauge)

Note the swivelling chimney cover, typical of French loco practice.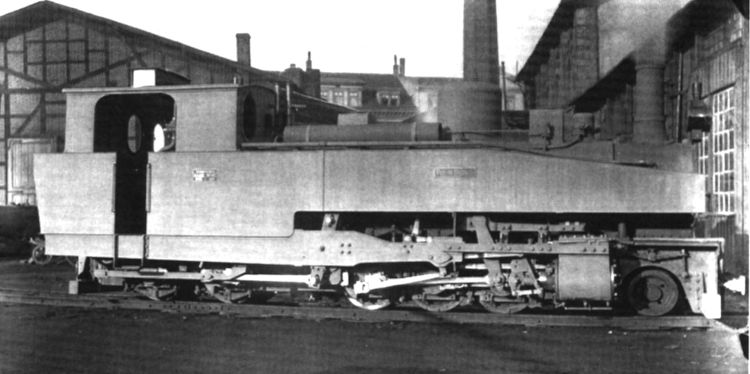 Above: Works photo of the 2-6 + 4-0 Hagans locomotive sent to Tasmania in 1900. Loco is in steam. (Smoke is coming from the chimney) Note sloping top at front of side tank to improve driver's forward vision.
Bibliography: "Articulated Locomotives" by Lionel Wiener.
---