| | | |
| --- | --- | --- |
| | French Turbine Locomotives. | |
| | |
| --- | --- |
| Updated: 2 Jan 2006 | |
The Nord Turbine project of 1938.
This was a conversion during construction of a locomotive orginally intended as a conventional 3-cylinder simple-expansion machine.
A turbine was mounted above the leading driving wheel, and the usual connecting rods retained. There appear to be six nozzle control valves and an exhaust duct leading forward to the blastpipe.
The arrangement looks very similar indeed to The Turbomotive, built in England in 1936.

The project was abandoned and the loco reconstructed as a conventional 4-cylinder compound. The formidable 232U1 is preserved at Mulhouse Railway Museum.
---
The SNCF 232Q1 of 1940.
This turbine locomotive was built in 1940 by Société SCHNEIDER at Creusot, this machine became known as LOCATU. (LOComotive A TUrbines)

Above: 232Q1 with part of its shrouding removed. Probably a works photo.

Above: Side elevation of 232Q1 with dimensions.
Steam pressure was 25 kg/cm2, and a superheater type 5.P.4 was fitted.
Three Curtiss turbine units were fitted, each placed above a driving wheel pair, thus eliminating connecting rods. It was no doubt feared that wheel-slip would be difficult to control; some sort of anti-slip system was fitted, but I have no details. Each turbine unit had a 6-row forward turbine and a 2-row reverse turbine. Each turbine unit connected to the driving wheels through two-stage spur gearing, with an overall ratio of 1/20.1, and via what translates as a "hollow tree". This appears to mean quill-shaft drive, à la Turbomotive. The drive system was described as "Quillcupdrive" and was apparently used on other locos; it certainly incorporated shock-absorbing devices.

| | | |
| --- | --- | --- |
| | | Left: One of the wheels, with shock-absorbing parts. |
With driving wheels 1.5m in diameter, the machine reached 140km/h at a turbine speed of 10000 rpm, and developed 2600 horsepower.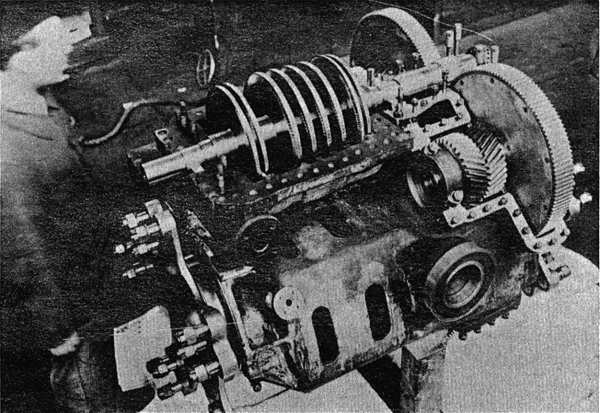 Above: One of the three turbine units of 232Q1, partly disassembled.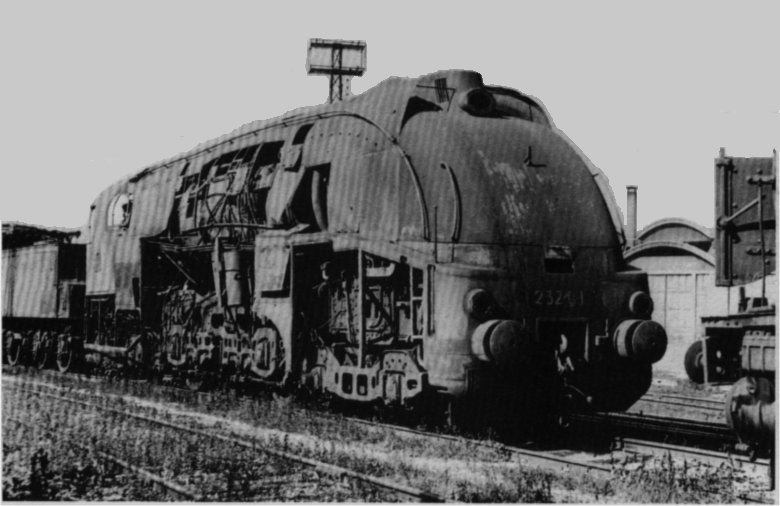 Above: 232Q1 languishes in a siding with part of its shrouding removed. Sorry about the moiré.
1939. Construction.
1940. In use on the Creusot-Montchanin line.
1941. Tests at the rolling dynamometer at Vitry-sur-Seine.
1942. A failure of the central turbine unit required its return to Creusot for repair.
1944. Abandoned after being badly damaged by retreating German forces on 3 September. I understand explosives were used to destroy the right-hand axlebox of the middle driving wheels.
1946. Scrapped at Nevers. The turbines were salvaged, but their intended application is so far unknown.

---