SchnellzugLok!
The German DB 05 003 Streamlined Cabforward.>
Updated: 17 Dec 2003
The DB 05 003 SchnellzugLok was a streamlined 3-cylinder 4-6-4. (05 003 means example #3 of type 05)
Above: The DB 05 003 Streamlined Cabforward; date of photo unknown. The square patches are vertically-sliding doors for maintenance access.

Above: Side elevation of the DB 05 003 Streamlined Cabforward.
05 003 was a unique cabforward version of Einheitslok (DRG Standard design) Type 05, using pulverised coal firing. (kohlenstaubfeuerung) It was an unsuccessful design rebuilt to conventional layout in 1944. All cabforwards have to deal with the problem of getting the fuel to the firebox; the Italian Gr670 stored it on the roof, the SP 4-8-8-2 burnt oil. The 05 003 was fired with pulverised coal, delivered to the front of the loco by air blast; note the centrifugal air compressor in the tender.
Information about this beast is scanty (in English, anyway) and all donations of info will be gratefully received...

Above: Side-view and plan of the DB 05 003 Streamlined Cabforward, with the pulverised-coal feed pipes shown in brown.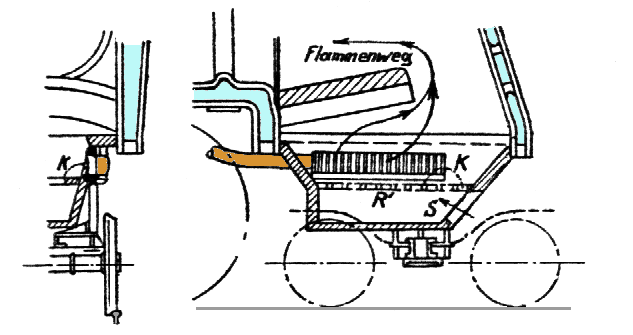 Above: The firebox of the DB 05 003 Streamlined Cabforward, with side nozzles for coal-dust injection. Combustion air enters at S.
| | | |
| --- | --- | --- |
| | | Left: A superb model of the 05 003 by Micro-Metakits |
---
Numbers 001 and 002 of Type 05 were of conventional layout. All were originally streamlined, and all later were de-streamlined, probably because difficulty of access for maintenance outweighed any fuel savings.
05 001 is preserved in the Verkehrsmuseum in Nürnberg; the streamlined casing has been replaced on one side.
05 002 held the World Rail speed record for a short time (200.4km/h run on 11.4.1936) until beaten by the British 'Mallard'.
05 002 and 05 003 were scrapped by 1958.
Axle load: 19.6 Tonne
Driver diameter: 2300mm
Design speed: 175Km/hr (109 mph)

---